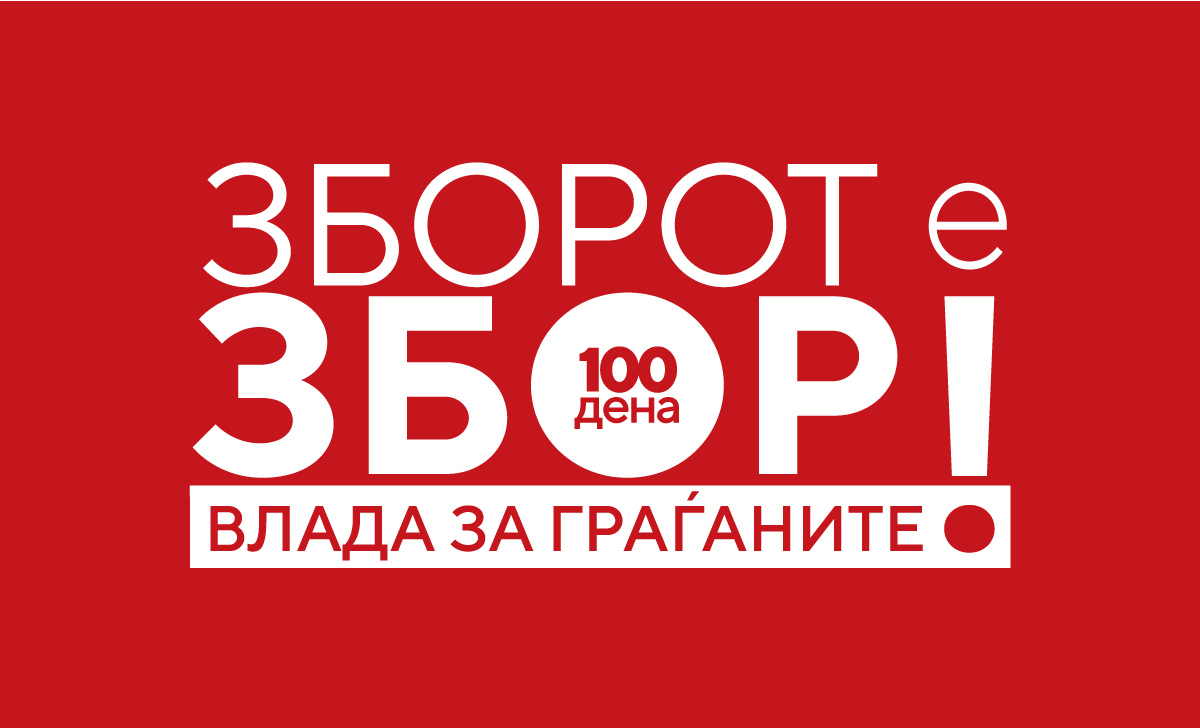 Во продолжение можете да дознаете повеќе за работата на новата реформска Влада во период од првите 100 дена.
Експозе на Претседателот на Владата на Република Македонија, Зоран Заев
"A promise is a promise - 100 days Government of the Citizens" - A publications with the results from the work of the Government of the Republic of Macedonia (Download - English version)
1. Министерство за труд и социјална политика, прес-конференција на министерката Мила Царовска
2. Министерство за транспорт и врски, прес-конференција на министерот Горан Сугарески
3. Прес-конференција на Заменик на Претседателот на Владата на Република Македонија, Кочо Анѓушев, заедно со министерот без ресор задолжен за странски инвестиции, Аднан Ќахил и министерот за без ресор задолжен за регулатива за подобрување на инвестициската клима за домашните претпријатија, Зоран Шапуриќ
4. Министерство за образование и наука, прес-конференција на министерката Рената Дескоска
5. Министерство за внатрешни работи, прес-конференција на министерот Оливер Спасовски
6. Министерство за одбрана, прес-конференција на министерката Радмила Шекеринска
7. Прес-конференција на Самка Ибраимовски, Министер без ресор задолжен за имплементација на Стратегијата за подобрување на состојбата на Ромите во Република Македонија
 8. Прес-конференција на Љупчо Николовски, Министер за земјоделство, шумарство и водостопанство
9. Прес-конференција на Драган Тевдовски, Министер за финансии
10. Прес-конференција на Роберт Алаѓозовски, Министер за култура
11. Прес-конференција на Бујар Османи, Заменик на претседателот на Владата, задолжен за европски прашања, Секретаријат за Европски Прашања
12. Прес-конференција на Билен Саљији, Министер за правда
13. Прес-конференција на Крешник Бектеши, Министер за економија и Зорица Апостолска, Министерка за странски инвестиции.
14. Прес-конференција на Арбен Таравари, Министер за здравство
15. Прес-конференција на Роберт Поповски, Министер без ресор задолжен за комуникации, отчетност и транспарентност
16. Прес-конференција на Сухејл Фазлиу, Министер за локална самоуправа 
17. Прес-конференција на Дамјан Манчевски, министер за информатичко општество и администрација
18. Прес-конференција на Едмонд Адеми, министер задолжен за дијаспора
19. Прес-конференција на Никола Димитров, министер за надворешни работи